Support groups, facilitated by ATVP staff, provide a safe, confidential space for survivors to share their experiences and support one another. There is no charge for any ATVP service, including support groups. For domestic violence support groups, child advocacy is often provided.
Individuals' goals for support group may vary, but overall the goal is to empower people by helping them feel less isolated, and by creating a space in which survivors can learn from each other. Survivors share their coping strategies, talk through their challenges, and support each other in working toward their personal goals.
Different groups are offered for survivors of domestic violence, sexual assault, or, in some cases, specific groups such as non-offending parents or adult survivors of child sexual abuse. For more information about which groups are available, please call (509)332-4357 or (208)883-4357.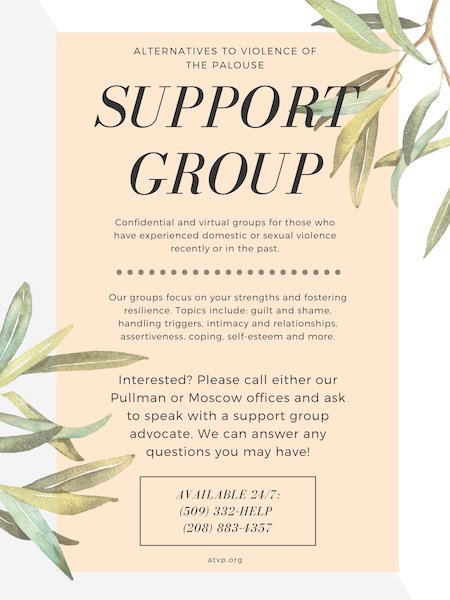 Support Groups
Confidential groups for those who have experienced domestic or sexual violence recently or in the past.
Our groups focus on your strengths and fostering resilience. Topics include: guilt and shame, handling triggers, intimacy and relationships, assertiveness, coping, self-esteem and more.
Interested? Please call either our Pullman or Moscow offices and ask to speak with a support group advocate. We can answer any questions you may have!